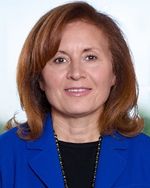 Rachel R. Hager, R.N., Esq.
Education
Rutgers University School of Law, J.D. (1994)
Rutgers College of Nursing, B.S.N., (with Highest Honors); received Sigma Theta Tau award for excellence in nursing practice (1987)
Bar Admissions:
New Jersey
Pennsylvania
U.S. District Court, District of New Jersey
Professional Profile/Memberships:
Former law clerk to the Honorable Arthur N. D'Italia (Assignment Judge, Hudson County, New Jersey)
Member: New Jersey State Bar Association
Member: Morris County Bar Association
Member: Morristown Chamber of Commerce
Former Member: New Jersey Women Lawyers Association
Areas of Expertise:
First party property insurance coverage investigation and litigation for both personal and commercial line policies.
Prosecuting and defending fraud and bad faith claims
Third party insurance coverage, including asbestos and environmental claims and litigation.
Personal injury and medical malpractice
Disability and life insurance coverage
Subrogation
Municipal Court matters, including DWI cases
Notable Cases:
Successfully represented and defended first-party insurer clients in hundreds of Hurricane Sandy and Irene claims, primarily concerning homeowners and commercial claims and ensuing litigation with successful and timely resolutions.
Defended numerous homeowners, commercial and equipment breakdown claims involving non-catastrophe losses such as arson and fraudulent exaggeration as well as more traditional coverage and measurement issues.
Defended numerous first-party insurers in actions arising from Hurricane Katrina involving a multitude of coverage issues, including disputes involving mold claims, code enforcement, business interruption issues and bad faith. In one of the Katrina cases, actively participated in a three-week bench trial in Jefferson Parish, Louisiana and was involved in post-trial submissions concerning alleged property damage and business interruption losses in excess of $100 million.
Successfully represented insurer–client in an appraisal involving the actual cash value of a vacant commercial building, obtaining a zero award.
Assisted insurer-client in investigating and successfully defending numerous claims arising from the 2003 power outage affecting the Northeastern United States and Canada.
Assisted property insurers in the investigation and pre-litigation settlements of a multi-million dollar claim involving hotel properties both in Louisiana and Mississippi in connection with Hurricane Katrina claims.
Successfully defended property insurer against a claim by another property insurer involving "other insurance" issues arising from the events of September 11th. Obtained summary judgment in favor of the client on a multi-million dollar claim with no ensuing appeal.
Represented insurer-client in a subrogation action which was successfully settled at close to 95 percent of the claim within months of the commencement of the lawsuit and before the exchange of discovery.
Defended large and complex commercial property damage claims for insurer-client, exposing otherwise undiscovered fraudulent acts by Insured and successfully resolving claims either pre-suit or prior to trial.
Successfully represented fire and EC carriers in arbitrations with boiler and machinery carriers.
Represented insurer clients in claims made under disability policies and obtained favorable settlements for clients.
Active participation in more than one hundred mediations involving the successful resolution of first-party insurance coverage claims.
Handled numerous personal injury and negligence cases from investigation up to the time of trial, obtaining favorable settlements for clients.
Rachel is a Registered Nurse in the State of New Jersey. She worked as an emergency room/trauma nurse for seven years in several Level 1 trauma centers in New Jersey. In 1994, after completing law school, she served a judicial clerkship for the Honorable Arthur N. D'Italia, former Assignment Judge in Hudson County, New Jersey. Thereafter, she was an Associate at the law firm of Budd Larner, P.C. in the firm's Property Insurance Coverage litigation group. She was eventually promoted to Counsel and then Partner in 2005.
Rachel has a diverse background in a wide range of insurance coverage matters and has litigated a wide array of complex, multi-million dollar claims in cases throughout the United States with respect to wind, flood, fire (including arson cases), fraud, mold, asbestos, building collapse, environmental cleanup, bad faith and other first-party risks as well as subrogation.