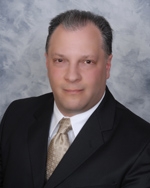 Robert M. Wolf
Education
New York Law School, J.D. (1986)
Syracuse University, A.B. (1983)
Bar Admissions:
New Jersey
New York
United States District Courts for the District of New Jersey, and the Southern, Eastern and Northern Districts of New York
Robert M. Wolf, counsel to the firm, is a member of the New Jersey (1987) and New York (1986) bars and is admitted to practice before the United States District Courts for the District of New Jersey, Southern District of New York, Eastern District of New York and Northern District of New York. He has also appeared as counsel pro hac vice in court proceedings in other states, including Connecticut, Ohio and Michigan. Bob is a 1983 graduate of Syracuse University, where he obtained a bachelor's degree in political science and journalism, and a 1986 graduate of New York Law School, where he obtained his J.D. degree after serving as Notes and Comments Editor with the Journal of International and Comparative Law.
Prior to joining Finazzo Cossolini O'Leary Meola & Hager, LLC, Bob was associated for nearly 15 years with Budd Larner, P.C., in its Short Hills, New Jersey office, where he primarily handled complex insurance coverage litigation and property insurance subrogation actions. As a litigator with a diverse commercial litigation background, Bob also assisted clients in resolving matters without litigation and, when necessary, prosecuted and defended numerous and varied other types of business and personal disputes in court. Before joining Budd Larner, Bob was a commercial litigator at Pitney Hardin Kipp & Szuch (now Day Pitney), in Florham Park, New Jersey, and at Giordano Halleran & Ciesla in Middletown, New Jersey.
In his subrogation practice, Bob has represented an insurance company in obtaining a multi-million dollar recovery in a New York federal court suit brought under the Racketeer Influenced and Corrupt Organizations Act against the parties responsible for a series of fraudulent insurance claims. He has also obtained substantial recoveries in actions arising from the partial collapse of a commercial parking garage in New York, an acetylene tank fire that destroyed a nearly completed supermarket that was under construction in Connecticut and an arcing fire in an electrical room in a shopping mall in New Jersey that was undergoing renovation. Bob recently co-tried to verdict and obtained a several million dollar recovery in a fire damage case that involved the issue of whether the fire was ignited by the spontaneous combustion of carelessly discarded linseed oiled rags or the negligent disposal of cigarettes into a trash can.
In his coverage practice, Bob has defended first and third-party insurers in complex environmental coverage and toxic tort cases and has defended first-party claims that have included the application of business interruption, sue and labor, collapse, suit limitations, appraisal, misrepresentation and fraud, cooperation and additional insured policy provisions. He has also participated in the development of defense strategies and the defense of property insurance coverage actions associated with the "Year 2000" or "Y2K" computer issue and the 2005 blackout that affected the Northeastern United States. Bob is a contributing author of the book, Property Insurance Litigator's Handbook (American Bar Association 2d Ed. 2013), including its sample jury instructions addressing bad faith claims and its 50-state survey of first-party bad faith law, and an active member of the Tort, Trial and Insurance Practice Section, Property Insurance Law Committee, of the American Bar Association.
Throughout his career Bob has endeavored to provide service to the communities where he lives and works. He has served as Secretary of the Board of Trustees of Star of Hope Ministries, Inc., a non-profit community development organization located in the City of Paterson, New Jersey. He has also served as a member of the Board of Directors and Vice President of the Ridgewood A.M. Rotary Club of Ridgewood, New Jersey, a community service organization of more than 60 members, where he also served as Chairman of both the Community Service Committee and the Club Administration Committee.