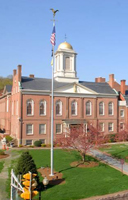 INFORMATION TECHNOLOGY
Given the size and complexity of the matters with which we are involved, FCOMH utilizes state of the art enterprise-class Information Technology in running our practice on a scale commensurate with law firms many times our size. Our system architecture is designed for performance, security, scale, and reliability, allowing us to meet and exceed our clients' expectations, grow our firm and dynamically support every facet of our litigation practice. Key system components include:
Microsoft Active Directory Network providing a secure environment for users, applications and data storage;

Dedicated, high-performance HP Servers for key applications (e.g., MS Exchange/Blackberry, ProLaw, Summation Enterprise) to guarantee performance and provide room to grow;

HP Storage Area Network for file services and large scale data storage;

Cisco Network Switches, Routers and VPN/Firewall for our local area network and access to the Internet;

AT&T Managed Internet and Secure Email Gateway services for fast, secure communications over the Internet;

Web Blaze, which is supported by a dedicated Enterprise server which enables clients to have direct access to all docments, folders, deposition transcripts and exhibits relating to virtually any case assigned to us;

M5 Network's Hosted Voice-over IP Phone system with dedicated IP connectivity for high voice quality and access to voice mail through our phone system or email;
Our IT system also includes remote connectivity through Blackberry devices, Web-accessible email, virtual private network, and wireless air cards for mobile computing. In short, our IT system is custom designed to enable us to service our clients' needs in the most dynamic, efficient and cost-effective manner possible.